I miss a lot of things.
I don't know why I'm feeling so nostalgic all of a sudden, but life really hasn't turned out how I planned. As Woody Allen once said, "If you want to make God laugh, tell him about your plans." I think there's something to that, but maybe only because things haven't worked out for me like I expected.
I really thought I would be married and with at least one or two kids by now. I thought I'd be a teacher (or a published author). I thought I'd have the "American" dream of owning my own place, minus the white picket fence … how cliché :D
Anyway … I don't want to bring myself down or anyone else. Even though nothing has worked out as planned, there are still things about the life I live that I love. Also, I can't be mad or regret many of the decisions I made … that really just wastes time and focuses on the negative, which I am really trying not to do. Which is why it was nice to get away from everything the last five days.
That's why the radio silence the last week-ish. Wednesday night we went to my brother's house (to have Thanksgiving there) and we ended up just spending the rest of the weekend there. I don't have a computer at his house, and since I had every intention of coming home on Friday, I didn't bring my laptop.
I had a few crap moments this weekend (just over-thinking everything around my dad), but I'm not going to rehash them. I am overall (98% of the time) very happy and so very thankful for everyone and everything in my life. So many people out there are truly suffering, and it pains me that I can't do much more than donate a few dollars here and there … If you are ever looking to donate at some point and not really sure which organization will do the most good with your money,
CharityWatch
is a really great site that rates a LOT of organizations, and there are quite a few A+'s on the list that will hopefully fit a cause that you believe in. But yeah … I spent a lot of the weekend watching television or being sick (I seem to always get sick on Thanksgiving now—it's become a new annoying tradition).
I watched FOUR seasons of How I Met Your Mother, which I am attributing to part of my nostalgic feeling. I am kind of obsessed with the show now, lol ... but I think it really captures well the struggles of the dating scene, while throwing in the married couple, the guy that says he'll never get married and bangs anything with two legs, to the girl so afraid to commit she sabotages every relationship she can ...and I haven't hit the end, but I am pretty sure it ends with everyone getting to the right place ... eventually... which is the whole point. We all take different paths and that's why it's the worst thing to compare our life to someone else's ... they're on a different path, a different destination and a different mode of transportation, how can you even compare? Yet, in the end, when you look back at all the insane detours, the hilarious 'wtf was I thinking' moments, the 'shit I really shouldn't have done that' fuck ups ... these things make us who we are meant to be, and makes us grow along the way to reach that point where we can say "I truly love my life ... and have no regrets."

I also watched two movies I'd never seen before: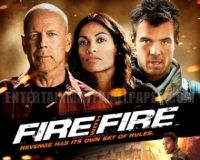 Fire with Fire Stars Josh Duhamel, who plays a firefighter who witnesses a horrific crime and barely escapes with his life. The crime boss is a really bad, bad man played by Vincent D'Onofrio (who I looooooooooved in Law and Order Criminal Intent – he was so good in that). He does a really good job of being a really bad man in this movie, which was weird to see (because he's usually a good guy) …but he did it really well. When Jeremy (Josh) agrees to testify against this guy, finally giving the Detective (Bruce Willis) after Hagan (D'Onofrio) a hope to finally put him behind bars, especially after Hagan murdered his partner and got away with it.

( Read more... )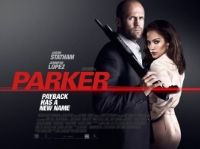 Parker is your typical Jason Statham movie. It stars him and Jennifer Lopez. Basically Parker is an 'honest' thief, who lives and works by a set of rules. When his latest sting doesn't go as planned, and his partners end up screwing him over in so many ways… he has to teach them a lesson. Of course, his revenge can't happen without the lovely assistant, played by J.Lo, who manages to get pulled into his scheme . It was an okay movie. As I said, it's a typical Statham movie with action, plotting and justly revenge. Somehow, even when he plays a bad guy, he still ends up being a good guy. I give it 3 stars out 5.
So that was my weekend. The best part was that I got a huge break from school crap. Instead of my final paper being due this Tuesday, it's due NEXT Tuesday, so that gives me a whole another week to write the final 2-4 pages! He also told us this paper is our actual final, so no EXTRA huge writing project for a final ... AND I had no stats class/homework. It was great. It was nice to just unwind for four days and not feel like everything was due immediately (I can feel that way this Sunday :D).
I hope that everyone who celebrates, had a GREAT Thanksgiving!! (: